OUR HISTORY
The seventies were heady times for artists in Australia. The Australia Council was established, the Sydney Opera House opened, our film industry made great strides forward, and a wide range of new musical initiatives, commercial as well as classical, changed the landscape. One of the new professional groups was the Leonine Consort led by Charles Colman. Colman assembled some of the best young singers in the country for performances of early music and vocal chamber music of the 19th and 20th century. In 1983, Peter Seymour, Artistic Director of the Sydney Philharmonia, invited Charles Colman to become the director of a new professional vocal ensemble as a part of Sydney Philharmonia. Auditions were held throughout Australia in early 1984. From over 100 applications, the initial octet was formed with Margaret Schindler, Romola Tyrrell, Susan Gotts, Narelle Tapping, James Bonnefin, Adrian Brand, Martin Cooke, and Stephen Bennett.
The Song Company's first performance took place in July 1984 at the Rothbury Estate winery in the Hunter Valley. As further performances took place around the country, the singers' aspirations and Colman's quest for a top quality vocal ensemble with its own repertoire led to complete independence from Sydney Philharmonia. One year later, on 15 July 1985, The Song Company Pty Ltd was a legal entity.
By the end of that year, the company had presented a number of challenging programs including a concert with the contemporary ensemble Flederman, had started commissioning composers, and set up a schools touring program through Musica Viva in Schools. Conductor David Porcelijn engaged the ensemble to perform in Stravinsky's Les Noces and Ravel's L'enfant et les Sortileges at the 1986 Adelaide Festival. From that moment, The Song Company never looked back.
After ill-health forced Charles Colman to resign in 1988, the group became a sextet led by John Grundy until Roland Peelman was appointed in early 1990. Under Roland's leadership, The Song Company has built an enviable reputation as a vocal group of unmatched scope and expertise. While its point of reference lies in the vocal consort repertoire of the 16th and early 17th century, frequent explorations in medieval music, and ongoing creative development with composers and artists here and abroad continue to expand the group's repertoire and skill base.
The group's 10th anniversary was celebrated together with the Australian Chamber Orchestra in a performance of Bach, Fauré and a new work by Elliott Gyger. The 20th anniversary was marked with a large new setting of Song of Songs by Andrew Schultz which saw the start of an ongoing collaboration with William Barton, one of Australia's most celebrated indigenous artists. The 30th anniversary season started with a performance of Berio's Laborintus II at the Sydney Festival, featured the première of a new Mass for Voices and Didgeridoo by Gerard Brophy, andl concluded with a rare soloistic performance of J.S. Bach's Mass in B Minor.
Since 1997, the group has performed at some of the world's most prestigious venues and has been hosted by major festivals in Europe, including the Flanders Festival, Utrecht Early Music Festival, and the Budapest Music Festival, and is equally at home singing in Nullagyne, Trangy or Barradine.
New and innovative collaborations have taken The Song Company's unique voice into the 21st century, most notably with choreographers Kate Champion, Martin del Amo, Shaun Parker and Thomas E.S. Kelly demonstrating the transformative power of dance and voice together. Today The Song Company can be seen as a pioneer in a cappella singing in Australia. No other vocal ensemble in the country matches the quality of The Song Company's ensemble or the diversity of its repertoire. There are arguably few vocal ensembles anywhere in the same league.
In 2016, the international award-winning British composer and conductor Antony Pitts took over the baton from Roland Peelman as The Song Company's Artistic Director. Antony's career has taken him from the Chapel Royal at Hampton Court Palace and New College, Oxford, via the BBC, the Royal Academy of Music, performances in Amsterdam's Concertgebouw and the Berlin Philharmonie, Antony brought with him a wide and distinctive range of programming, and has since been recognised by Australian critics as "seriously interesting", and an approach to vocal sonority which has led to a new, distinctive sound for the Company.  
2019 saw a period of financial instability, due to cash flow issues and insufficient governance oversight, resulting in the company entering a short period of voluntary administration. Due to the generosity of a private donor, the company was returned to the Board of Directors in June 2019. 
In March 2020, the company were featured ensembles alongside international guests the Netherlands Chamber Choir, The Norwegian Soloists Choir and The Tallis Scholars for 150 Psalms at the Adelaide Festival. Of 150 Psalms – Leadership, one of one of three different programs performed in three days, Daily Review said:
★★★★★ "…Reveal[ed] the strength and beauty of The Song Company's prodigious vocal talents."
Directly following the Adelaide Festival, Australia and much of the rest of the world, went into lockdown due to the unfolding COVID-19 pandemic. The Song Company's activities, like much of the performing Arts community, were severely impacted. However, despite many cancellations and postponements, the company was able to produce digital and live performances that adhered to new audience and venue restrictions.
The company's partnership with Australia Digital Concert Hall began in August 2020 with performances of Olivier Messiaen's song cycle "Harawi" with soprano Amy Moore and Artistic Director Antony Pitts, the first of the company's CloseUp series. Over the next two and a half years, despite the continued upheaval to the performing environment, the company produced a surprising amount of live performances, including a semi-staged production of Hildegard of Bingen's "Ordo Virtutum" in "Circle of Virtue;" a new 32-part arrangement of Gavin Bryars' iconic "Jesus' blood never failed me yet" in "Burden of Truth;" a quirky mix of old an new in "Arms of Love" wit Buxethude's "Membra Jesu nostri" intertwined with a major new work by Newcastle-born Chris Williams, and a music reaction to and setting of the Uluru statement from the heart by Elizabeth Sheppard and Sonya Hollowell in "Songs From the Heart."
In September 2022, the Board announced a new artistic and business model following a major strategic review. A new Artistic Advisory Committee, made up of artists and Board members, was formed to lead the company's artistic decision makings. Coinciding with this new direction, Artistic Director Antony Pitts made the decision to move on after seven years in the role.
Announced in early 2023, the new season includes three major projects led by a series of Guest Directors and a stable core group of singers in the ensemble. Those directors are soprano Amy Moore, contemporary music conductor Jack Symonds, and early music and contemporary choral specialist Christopher Watson.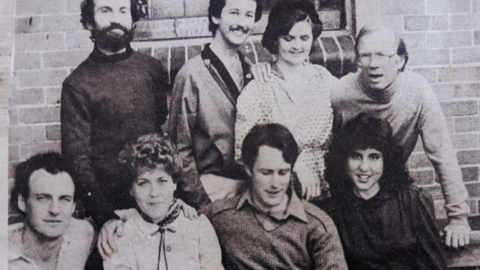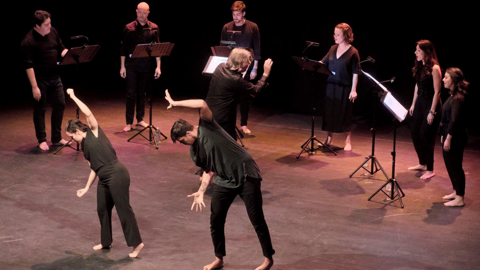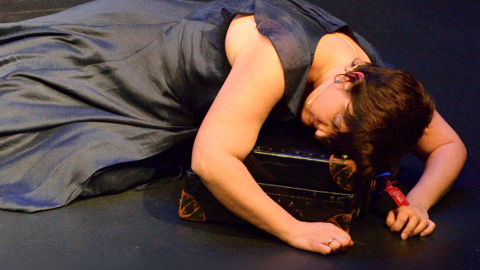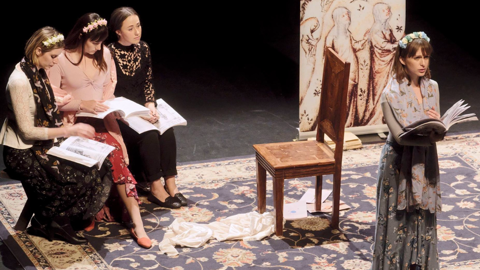 OUR MISSION
Enhance Australia's musical and artistic reputation with performances of the highest standards of excellence.
Create sustainable careers for Australia's foremost vocal artists in innovative repertoire that enriches the experience of audiences across the country.
Educate, train and create employment pathways for the next generation of young Australian singers through our comprehensive artist development programs, workshops with local voice and choral enthusiasts.
Commission and première music that showcases imaginative and theatrical sound, continuing our outstanding record of created works by female composers, Indigenous performers and creative artists from diverse backgrounds.
Collaborate across and beyond borders to produce culturally diverse art that defies expectations.